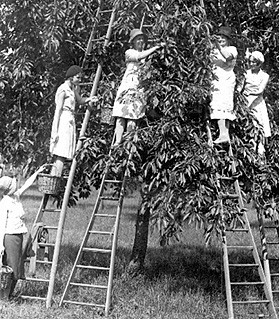 A fascinating picture is beginning to emerge of patterns of cherry growing locally. We know that at the Maharajah's Well in Stoke Row a cherry orchard was planted in the 1860s to maintain the well given to local people by the Maharajah of Benares. The International Tree Foundation has been active recently replanting cherry trees there. We have also been told that there were once cherry orchards at Emmer Green, just on the edge of Reading, and almost in our parish.
Slightly further afield, in Harwell, there were once many commercial cherry orchards flourishing on soil rich in greensand, and we have been speaking to a nurseryman whose grandfather supplied the growers there with trees. This image (courtesy of the Museum of English Rural Life) may well be of cherry picking in Harwell.
Just one commercial cherry orchard remains in Oxfordshire today (Q Gardens at Milton Hill, near Abingdon) growing some 20 different modern varieties, with an extended two month season. Perhaps we should revive the tradition of cherry trees locally, growing a traditional variety? A specialist nursery has offered to propogate trees for us, if only the right Oxfordshire variety could be found.
Do you have any knowledge of cherry orchards at Emmer Green or nearby in Oxfordshire? Do you know what varieties were grown and when and why the orchards ceased to exist? Are there any old trees remaining for which you know the variety? We would be delighted to hear from you. Please email d.woodward@rdg.ac.uk