19 October 2012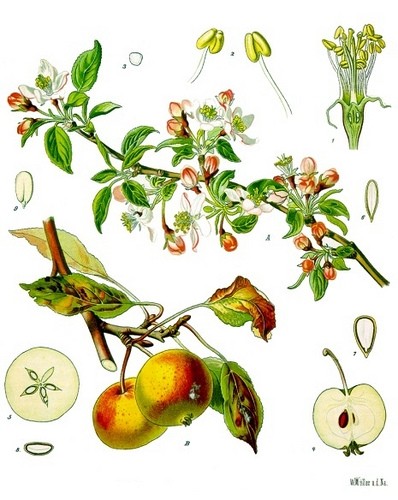 It's Apple Day at the Museum of English Rural Life close to the hospital in Reading tomorrow, Saturday 20th October! Join us from 1 to 5pm for our annual celebration of the English apple! There's something for everyone, from a chance to see some beautiful apple-related archives from the University's Special Collections to family craft workshops, cider tasting to toffee apples.
If you have any surplus apples on your trees this year, please bring them along and watch them being pressed into juice!
For details, visit the MERL website http://www.reading.ac.uk/merl/whatson/merl-appleday.aspx
21 November 2011
According to an article by Dr Max Pemberton in the Telegraph, apples contain more vitamin C than many supplements, as well as being packed with any number of other health promoting substances.
"In a study conducted by Cornell University, it was found that in addition to vitamin C, apples contained many other chemicals, including the antioxidants flavonoids and polyphenols. This meant that eating a small apple gave a combined antioxidant effect equivalent to 1,500mg of vitamin C – a dose far higher than most supplements.
"In addition, the apple was found to have anti-allergy, anti-cancer, anti-inflammatory and anti-viral properties as a result of the presence of an array of other "phytochemicals". This might be why a Cochrane review – an analysis of all the key research on a subject – found that even very high doses of supplementary vitamin C did nothing to prevent colds in the general population"
More than enough reason to support your local community orchard!
03 October 2011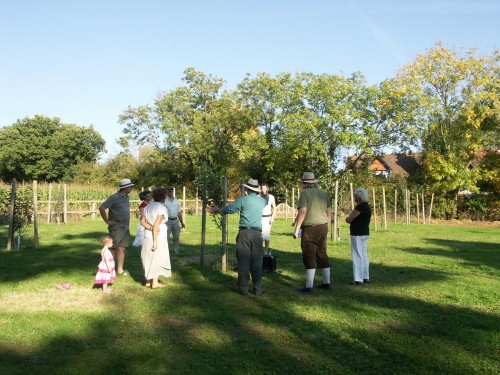 Our Apple Day was a great success.
More than 65 people of all sizes enjoyed the astonishingly good weather. We made a profit of over £50 on teas and cakes and everyone enjoyed (and even dared take part) in the dancing with WAT Dance, who meet at the Dunsden Hall.
Andrew's Aunt Sally game was great fun and the apple bobbing organised by Phillip and Anita was a huge success with the children.
A short AGM heard a report on the success of the last year, re-elected officers and passed a snall change to our consitution. Next year we hope to repeat the success and hope you will be there if you couldn't make it this time.
22 September 2011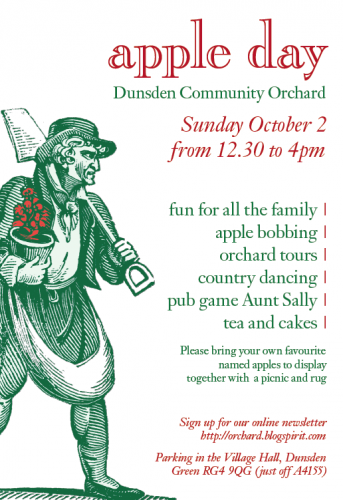 Everyone, and especially tree sponsors, is invited to this event. There will be cakes and home made preserves on sale (please bring your own to share) and tea will be served. Entry is free, although we will be inviting new members to sign up for the orchard. 'If wet in village hall'.
WAT Dance will be performing a display of country dancing on the Village Green and will be inviting participants. Also don't miss the chance to have a go at the tradional pub game 'Aunt Sally'. Prizes will be offered for the best child apple bobber and you are invited to bring your own favourite (named) apples to display, so that we can all learn about the rich variety of traditional English apple growing.
It should be a lot of fun.
Please click here to download a PDF file which you can use to print off and display a copy of this poster.
09 September 2011
Would you like to help plan an apple day to be held in the orchard at lunchtime on Sunday 2 October?
Please email d.woodward[at]reading.ac.uk for details of an informal planning meeting we are holding on Tuesday September 13. You will also be most welcome at a working party in the orchard on Sunday 18 September, from around 11am. You only need drop in for an hour if that's all you can manage. All ages welcome. Please RSVP to the same address.
We need your ideas for the Apple Day. So far we plan to start with a picnic in the orchard perhaps with a barbeque and tea and cakes. There will be a display of country dancing and a chance to have a go at the traditional pub game, Aunt Sally as well as apple bobbing for the children. We could also have competitions for the best apple chutney, apple cake, etc but need to discuss these and any other ideas you have.

We would also like to include orchard tours and apple identification. This is a joint venture between the Community Orchard and Dunsden Village Hall. The more people volunteer to be there, and to help, the more fun it will be - so please get in touch.
David Woodward