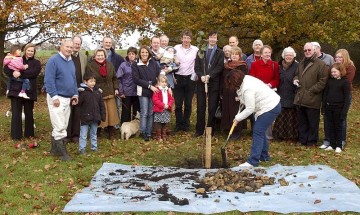 Pictured are just some of those that enjoyed the official launch of Dunsden community orchard on Sunday 25 November. With assistance from young and old, Lord Phillimore officially planted our first tree, a Blenheim Orange, kindly donated by Dr Barrie Juniper.
The Blenheim Orange is just one of many locally connected apples and cherries we hope to plant in the orchard once the site is accessible. The variety was discovered in 1740 by a cobbler living in Woodstock. He moved it to his garden and 'thousands thronged to gaze on its ruddy ripening burden; then gardeners came in spring-time to select the much coverted scions'. It was subsequently supported by the Duke of Malborough until it became one of the most popular 19th century apples. According to The new book of apples the wood was so strong that it was used to make railway cog wheels.
The launch of the community orchard was celebrated afterwards with mulled cider and mince pies in the village hall. A number of people indicated that they wanted to be part of the planning team and they will be meeting early in January. Decisions to be taken will include: where and how to create entrances to the orchard (living willow arches have been suggested); grant applications; soil quality and preparation; constitution; planting schemes/sponsorship and timings. All supporters will be welcome at the meetings. There are more photos of the launch in the album
It's not too late for you to become involved! Just register your email address on this site or contact David Woodward or any member of Eye & Dunsden Parish Council.