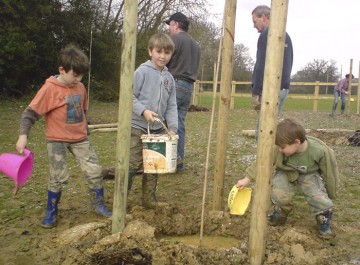 As you will have seen from this week's Standard, more than twenty orchard enthusiasts, young and old, had a great day working together at the orchard last Saturday. Holes were prepared and around a dozen trees were planted with 120 8' poles being driven into the ground to make enclosures to protect the trees from deer.
The younger ones had tremendous fun bailing water from the holes dug last week, and the older ones enjoyed barrowing in topsoil, planting and enclosure building. Everyone enjoyed Tim and Judy's flapjacks.
We still have most of the trees to plant (they have just been heeled in so far). Will you join us this Saturday, 22 March anytime from 10am onwards?