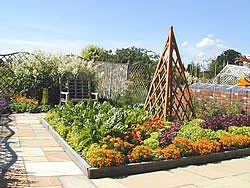 Binfield Heath Allotment Group have organised this visit and are looking for other interested parties to help fill the coach on Saturday, 9th August!
Garden Organic Ryton is an internationally famous tourist attraction comprising ten acres of display gardens managed entirely organically and all aspects of domestic horticulture are on show, including composting, pest and disease control, fruit and vegetable production, herbs, roses, lawns, shrubberies and herbaceous plantings.
The 10 acre garden contains a wide variety of planting and has over 30 individual gardens in the beautifully landscaped grounds including a Rose Garden, Cooks Garden, Paradise Garden and RSPB Wildlife Garden.

The new Vegetable Way and Vegetable Inspirations gardens show just how easy it is to grow vegetables at home. There are lots of unusual ideas to try out - including growing vegetables in containers and amongst your ornamental border. The Flowers for Pleasure Garden is also new and demonstrates how to grow good quality flowers for cutting and drying at home.
There is also an award-winning organic shop, an interactive visitor experience – the Vegetable Kingdom, and the charity's world-renowned Heritage Seed Library, which preserves over 800 varieties of vegetable under threat of extinction.

The gardens are accessible by wheelchair and mobility scooters are available if booked in advance. The Restaurant at Garden Organic Ryton was voted as Best Organic Restaurant 2007. There is also an organic café and visitors are also welcome to picnic in the garden.

Tickets cost £20 with a £5 reduction for Garden Organic and RHS members. There is also a reduction for children. Tickets are available from Binfield Heath Stores or from Beth Timms on 01189 461987 or beth.timms[at]btinternet.com

We plan to leave Binfield Heath at 9am returning at approximately 5.30pm (other local pick-ups can be arranged as necessary).