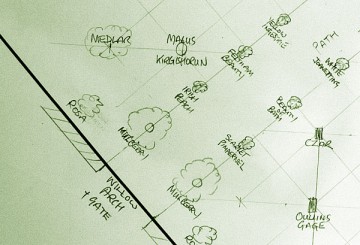 Nick Marks has prepared a splendid orchard plan for us.
Using a combination of apples, cherries and plums, plus the bonus of a pair of decorative mullberries, a quince and a medlar, the design begins with the earliest known apple, Malus Kirgishorun and proceeds via Mrs Phillimore to a set of locally connected and interesting historical varieties.
Four cherries are close to the road, where their blossom will be seen to advantage, and the planting scheme includes cider and perry apples.
A central path which leads to a bench has dwarf trees on either side and it divides the apples from the plums and cherries which are arranged on a different axis.
See the full zoomable PDF file