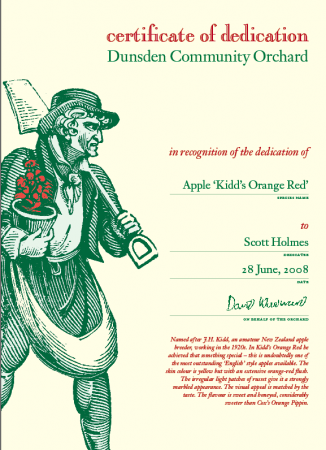 The current dry weather has been taking its toll at the orchard. We are hoping for heavy rain as a small number of trees seem to have perished in spite of attempts to save them. Watering is difficult as the site does not have its own supply, but it has been possible to get a hose across the road from the village hall. A bowser has been promised, but if anyone has a very large (500l+) tank it would also be very useful. If you think you might be able to help, please email now.

Our tree sponsorship scheme is proving very successful. Some 15 trees have been sponsored and commemorative labels will be attached in the next few weeks. The special certificates provided with each tree adoption are also proving very popular. If you want to sponsor a tree the time is now, before the variety you want is taken!

A working party may well be arranged for later this month - more details in a future story.